Computers for the Trading World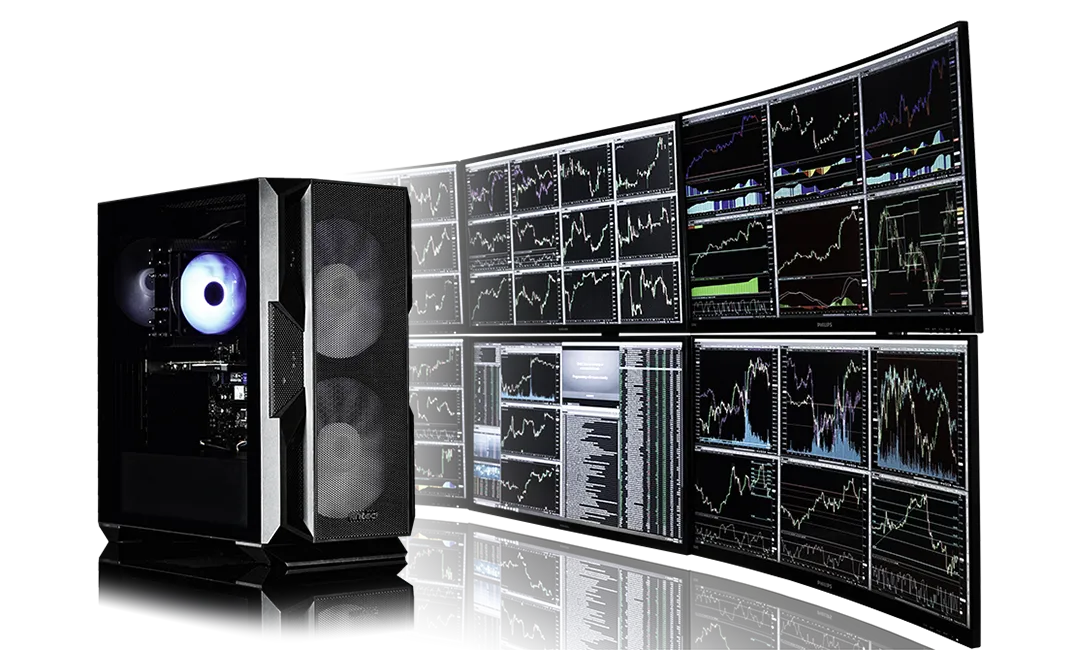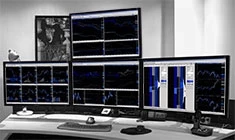 Testimonial
"As a full-time professional with over 30 years in the investment business, I know the importance of having the right tools.
Falcon Trading provide the kind of exceptional BRUTE power that is required to maintain our position as a top-ranked trading system design firm.
The difference between these trading computers and typical discount store models are like the difference between a YUGO and a CORVETTE; Falcon is the best trading computer!"
Joe Krutsinger, CTA
Professional Trader,
Author & speaker on trading
Falcon Performance
If you increase the speed of a computer by 20% then the performance of that computer will increase by 20%. That is what we do best.
Cheap computers require Intel to rate their processors slower than they can safely go. Our motherboards have 12-16 voltage regulators vs. the 2-3 that is typical of cheap computers. More voltage regulators mean smoother voltage delivery and much better stability. Our motherboards are also more precise in setting the correct voltage.
With smoother power and more precise voltage control, our computers can go faster.
There are some bad practices in the computer industry. Intel has put out warnings on these bad practices. We are careful to deliver to you the fastest possible computer that is within the safe operating parameters of the CPU. We have been doing this for more than 4 years and we are an Intel Gold partner.
For the best trading computers, go with Falcon Trading Computers.
What is a Trading Computer?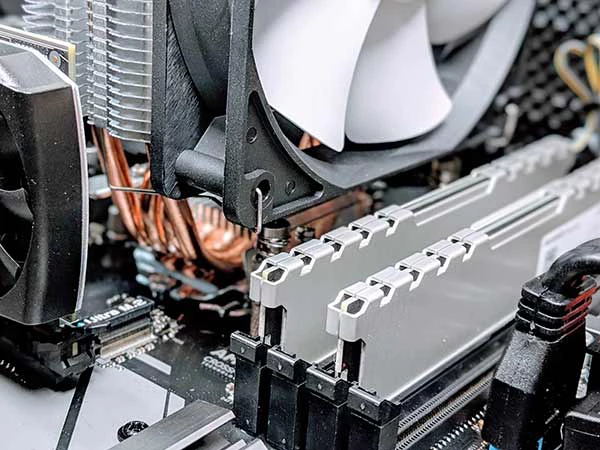 Speed
Today's good quality trading software is very demanding. During periods of intense market activity, the processor will be hard-pressed to keep up with the flow of data and its necessary calculations. Falcon Trading Systems® computers have the extra speed that traders need to keep up with the markets and get their orders in first.
"Slippage" is the difference between what you thought you were going to received when you placed your order and what you actually did. A faster computer means less slippage because your order will get to the market sooner. The extra slippage caused by using the slower mass-market computers will cost you far more in the long run.
We learned years ago, and it is still true today, that the most critical element in a powerful trading computer is a fast processor. We make computers with the fastest stable processor speeds, and we guarantee these rapid speeds for the computer's useful life. A fast processor, however, is not enough by itself.
Installing faster rated memory in a computer will not make it go any faster; the computer must be setup properly to increase memory speeds. We know how do to this.
Processors require a considerable amount of information from the computer's memory. Installing higher frequency memory in a computer will not make it go any faster as trading doesn't fill your RAM like video or having a lot of web pages open. Trading data is ever-changing information that is quickly stored, used, and erased. Latency is the name of the game for a trading computer. Generally, as you increase memory frequency, you increase latency, and it's a delicate balance. If you have low latency and high frequency, you will often have an unreliable trading system. For this reason, we custom source our memory chips to achieve the right balance of memory frequency, latency, and reliability.
Multiple Monitors
One of the core features of a trading computer is its ability to support more than one or two monitors. The average trader who supports himself by trading will use between six and eight monitors. Some use as few as four monitors. New traders may find this a bit overwhelming. Once experience is gained, however, it will make perfect sense.
What do you do with all those monitors? Here is a stock trading example:
Monitor 1: Watch the S&P 500 index in 3 time frames
Monitor 2: Market Sectors, VIX, Put/Call Ratio, ARMS Index
Monitor 3: Big list of Long/Short Candidates/Favorites
Monitor 4: Charts of likely stocks to trade today
Monitor 5: Current Positions
Monitor 6: News feed & Subscriptions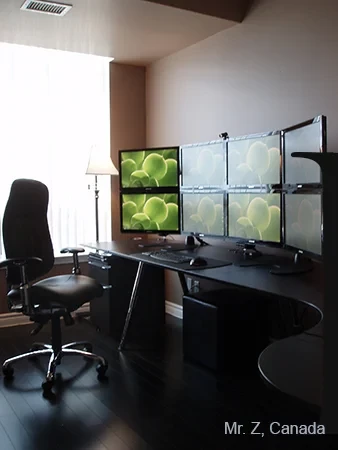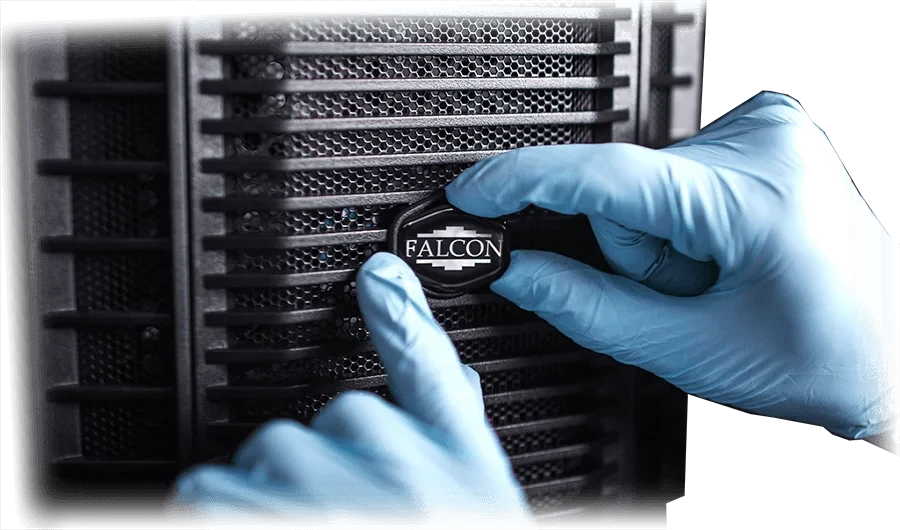 Reliability
When you have real money on the line you need reliable equipment. We employ methods inspired by the aeronoutics industry to ensure the most reliable computers possible.
Falcon Trading Systems® computers undergo an extensive series of tests to make sure that they are 100% ready for rigorous service.
Performance testing determines the correct settings to tune the computer for maximum stability, realization, and reliability. Non-destructive stress testing is performed to discover components that are currently functioning but are weak and will fail quickly.
Extensive static electricity controls in our production process prevent degradation of the components prior to shipment.
Superior Experience
When you buy a Trading Computer from Falcon, you aren't just purchasing a trading computer. You are also tapping into 45+ combined years of experience with every trading platform imaginable. In many cases, our support staff can fix a problem with a trading platform that the developers aren't even aware exists or may not have the time to resolve. Over the years, we have also found particular hardware and software optimizations for these trading platforms that we use to enhance the trading experience on the systems that we ship out. At Falcon Trading Systems®, we strive every day to produce a superior experience for our customers so they can simply trade.
Warranty and Support
When your livelihood is on the line, you need reliability. Many people mistakenly think that Microsoft-based computers are inherently unreliable based on their experiences with cheap mass-market computers. The inability to manage your trades because your computer just crashed can result in losses that exceed the value of the computer several times over. All F-series computers come with a full three year warranty and lifetime technical support from our competent and experienced staff.
Experts and traders, with hand-on training and experience, comprise our technical support staff. Our administrative staff is highly knowledgeable. When you call other computer manufactures, you often get automated systems, minimally trained people, and headaches. We have a different philosophy here at Falcon Trading Systems®. Call and see for yourself. Our friendly and knowledgeable staff can answer all your questions and put your mind at ease. If you want the best you should buy from the best.
Trading Technology Partners




BROKER REIMBURSEMENT FOR YOUR TRADING COMPUTERS
Our customers have the opportunity to get a 100% refund for their trading system purchase from us (computer, monitors, and accessories) when they open a new account at a participating broker. Tradestation will give you a discount on their fees until the reimbursement is complete.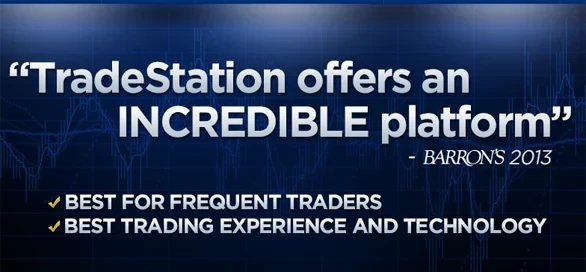 TradeStation will fully reimburse you for your trading computer when you open a new account. Additionally, there are additional discounts beyond full reimbursement:
20% commission rebate program up to 100% of Falcon Trading purchase amount.
Contact TradeStation to ask questions and open your account.