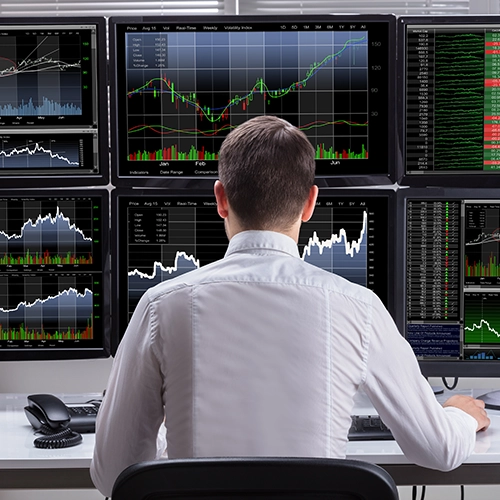 Choosing the right computer for cryptocurrency trading is key to your success as a trader. When you are thinking about buying a new computer for crypto trading, there are many factors that you need to consider. But with so many models and configurations to choose from, it can get confusing to know what you need, especially if you're a PC trading novice. This article will discuss some of the most important features you should look at before choosing the best computer for crypto trading.
What to Look for in a Crypto Trading Desktop Workstation
Trading computers are uniquely designed machines made to handle the needs of traders. They are typically faster and more potent than standard desktop computers as traders must be able to process a lot of data quickly. Here are a few features you should keep in mind when shopping for a crypto trading workstation.
Processor Speed
Processor speed determines how fast the computer processes information and executes operations. If you're planning to use your computer for high-frequency PC trading, you need a faster processor. Look for a setup with a minimum of six to eight processor cores for a beginner system or 12 cores for a more advanced one.
Read more about processors in this article
Memory (RAM)
RAM is your computer's short-term memory. Computers with more memory operate faster and can run multiple programs more smoothly. Look for a computer with at least 16GB of RAM. For serious traders who want to take their performance to the next level, additional RAM may be worth the cost.
Hard Drive
Your crypto trading computer setup must be reliable to be effective for trading. It should run smoothly with proper cooling to avoid overheating or hard drive failure. Choose a computer with a solid-state drive (SSD) as this type of hard drive offers the best reliability and speed.
Display
To trade efficiently, you need easy access to a lot of data; having multiple monitors makes it easier to view the information you need to make informed decisions. Workstations typically have numerous monitors with screens large enough so you can see all relevant information clearly. Your station should have multiple display screens, but how many is enough? Two or three monitors are usually sufficient for most beginners. However, some professionals prefer workstations with four, six, or even eight monitors-- it all depends on what will help you work most efficiently.
Service and Support
No matter how new or advanced your computer is, you're bound to run into technical issues. You'll never be able to avoid problems completely, so it's crucial that you shop from a computer company that prioritizes customer service and offers technical support. Check the warranty before purchasing any system to ensure you have the robust coverage you need.
The Best Computer for Trading
If you're searching for the best computer for crypto trading, check out the professional workstations from Falcon Trading Systems. We are market leaders in trading computers, and all our systems are built and tested in the USA. We offer some of the most powerful crypto trading computer setups and the best laptop for crypto trading with superior specs and customizable features.
When buying a new computer for crypto trading, there are many things to consider. No matter if you're shopping for a laptop or a desktop workstation, you'll need to consider the speed, memory, hard drive, display, and more. With the information above, you'll be able to find the best computer for crypto trading that meets and surpasses your needs.
Visit us to check out all of our incredible crypto trading computer setups.