NinjaTrader is the preferred active trader platform for many traders worldwide including many of our clients. We are pleased to recommend NinjaTrader to our clients for many reasons but one great reason is that you can get started with NinjaTrader for Free! Why pay hundreds of dollars per month for products with less functionality when with NinjaTrader all you need is access to a real-time or historical data feed.
NinjaTrader is always FREE to use for advanced charting, backtesting & trade simulation.
Download Ninjatrader Now
(opens new tab)
Charts
Visualize the Markets
NinjaTrader delivers advanced charting including the ability to trade from your chart.
Analyze the Order Flow
Use order flow, volumetric bars & market depth to confirm movement in a specific direction.
OrderFlow+
The OrderFlow+ suite of premium features available for NinjaTrader 8 gives you tools to analyze trade activity using order flow, volumetric bars & market depth.Identify buying & selling pressure to confirm market movement in a specific direction as the trading action unfolds through visualization of the order flow.
Volumetric Bars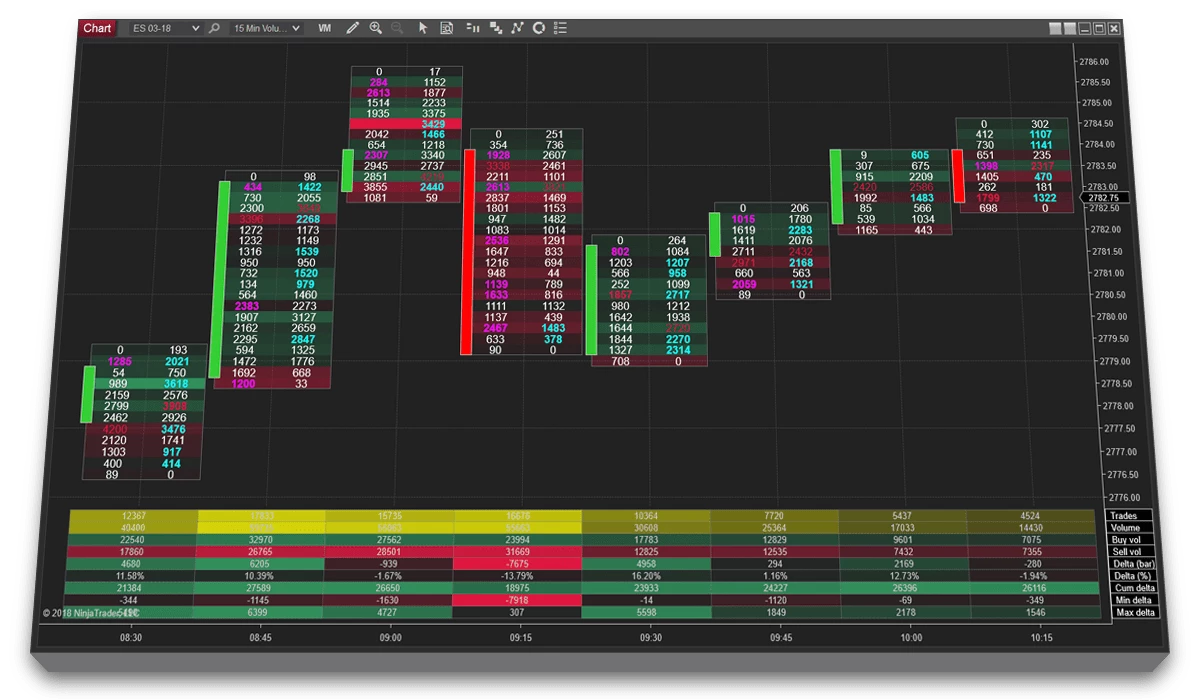 Volumetric bars track buyers and sellers tick by tick giving you a comprehensive view of the activity for order flow trading.
Footprint style visualization
Show order flow imbalance
Market delta analysis
Identify volume clusters, absorption, exhaustion and unfinished auction patterns
Market Depth Map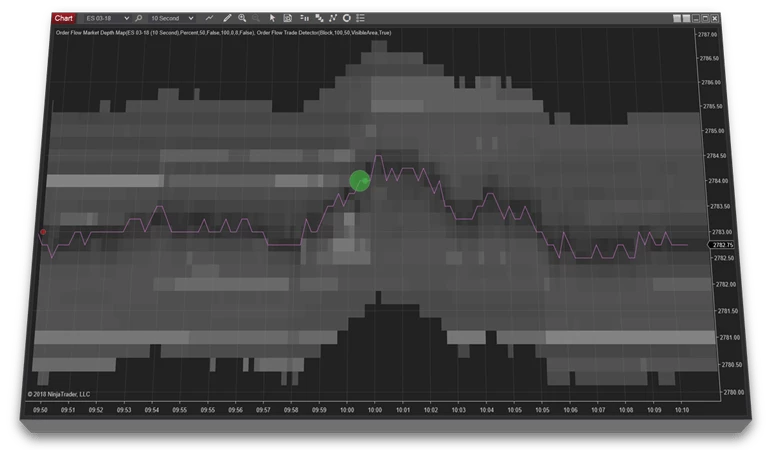 Historic and real-time visualization of the limit order book giving you clear insight of market depth and order flow.
See the progression of the limit order book
Easily identify supply and demand
Volume Profile Indicator & Drawing Tool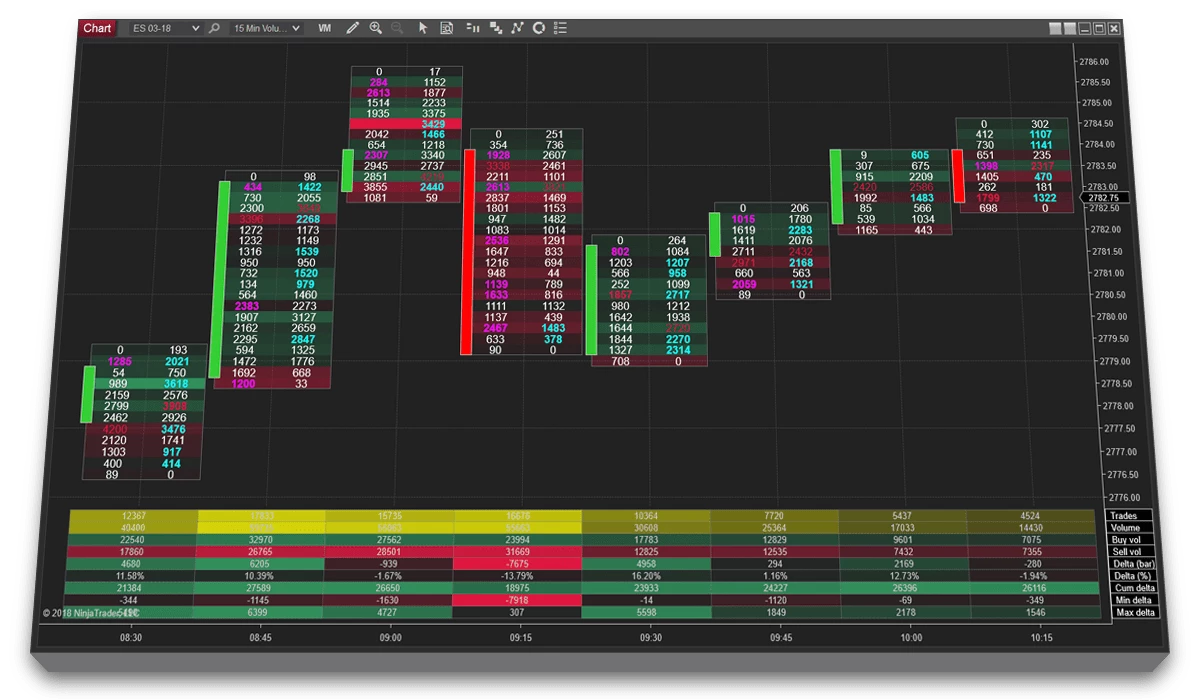 A comprehensive advanced analysis technique that displays the distribution of trading volume over price for a specified time range revealing significant levels of support and resistance.
Multiple visualization modes
Plot volume, delta, ticks or price
Display point of control and value areas
Trade Detector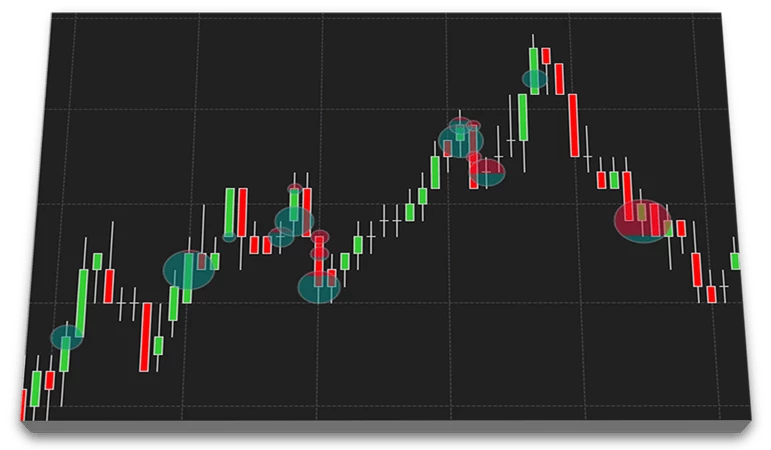 Analyze the tape and visualize significant trade events on your chart. A powerful combination when used in conjunction with the Order Flow Depth Map.
Tracks trades based on buyer or seller activity
Display based on trade size or accumulation
Cumulative Delta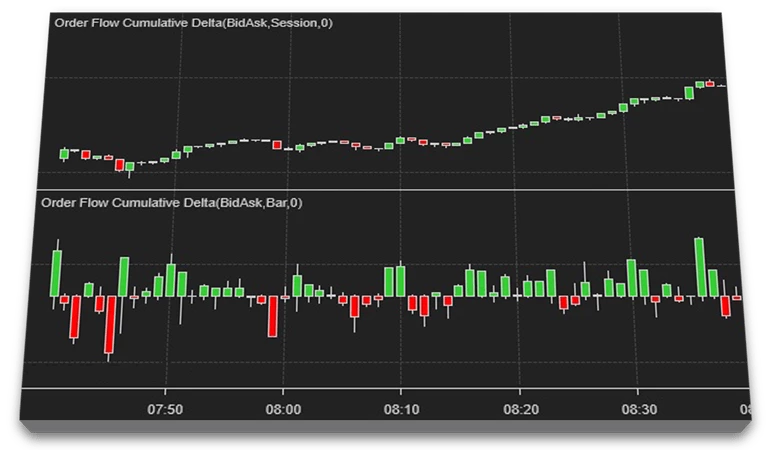 Plot the underlying order flow to uncover the battle between buyers and sellers.
VWAP with Deviation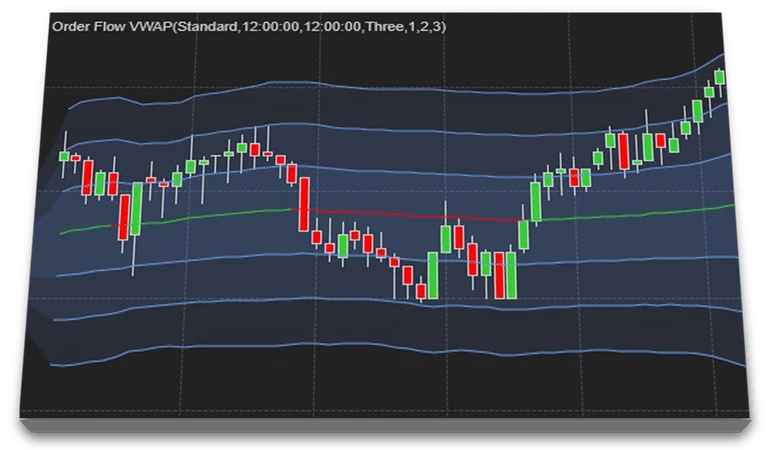 Plot the volume-weighted average price of a market.
Uncover Trading Opportunities
Powerful Real-Time Analysis
Easily monitor hundreds of markets based on your predefined conditions to rank, scan & sort tick by tick.
Advanced Alerting Capabilities
Trigger custom notifications, social media sharing & orders based on analysis
Insight to Perform
Access the Option Chain to quickly manage expirations with visibility to strike prices & quotes.
Track the world's largets market using the FX Board to capitalize on market moves.
Leverage additional analytic tools including Time & Sales, Level II, Hot Lists, News, and more.
Develop
Build rich and integrated trading apps. Develop indicators, strategies and apps or use 3rd party add-ons to personalize your platform.
Endless Customization & Extendibility
Leverage 1000s of 3rd party technical indicators, strategies and apps to build a custom trading setup to meet your requirements
The Only Limits Are Your Imagination
NinjaTrader's comprehensive and flexible development environment empowers traders to build rich and integrated apps.
You can develop: Indicators, Trading apps, Chart styles and bars, Automated strategies, Chart drawing tools, Social sharing services, and much more...
If You Think It, You Can Build It
Possibilities are endless utilizing a modern C# based trading framework designed for low level access to:
Balances & positions
Orders & executions
Real time & historical data
User interface
Controls
Indicators
And much more…
Design, Package and Distribute
With hundreds of add-on providers, NinjaTrader's Ecosystem empowers over 60,000 active NinjaTrader users with custom trading apps.
With hundreds of add-on providers, NinjaTrader's Ecosystem empowers over 60,000 active NinjaTrader users with custom trading apps.As a professional developer, receive free license authentication services, access cost effective IP protection and participate in the NinjaTrader Ecosystem.
SIMULATE
Test ideas through simulation and backtesting
Learn Through Free Simulation
Simulated trading is an integral component of the trading education process and equally as important for experienced traders wanting to test new concepts.
Verify Your Trading Ideas
NinjaTrader's high performance backtesting engine allows you to simulate your automated trading strategies on historical data and analyze their past performance.
Play, Pause & Rewind the Markets
Replay FREE historical market data tick by tick, fully synchronized across the platform as if it was happening in real time.
Control Your Own Data Feed
Using NinjaTrader's Simulated Data Feed, you can control market direction to test your automated strategies or simply to help you learn the platform.
TRADE
Automate or execute your trades manually
Trade What You Want
The world's markets are at your fingertips through NinjaTrader including: Futures*, Forex*, Options*, CFD's, Stocks.
*Live trading available through NinjaTrader Brokerage
How You Want
Whether you trade through a DOM or submit orders through Chart Trader, NinjaTrader has multiple interfaces designed for fast, informed decision making.
Play, Pause & Rewind the Markets
Replay FREE historical market data tick by tick, fully synchronized across the platform as if it was happening in real time.
with Advanced Trade Management
Advanced Trade Management (ATM) eliminates emotions by protecting open positions with automatically submitted stop and target orders and self-tightening trailing stops.
Automated Trading Solutions
Diversify with Systems
Auto-trade algorithmic trading strategies across various markets eliminating emotion & saving time.
Advanced Trade Management
Predefine trade entries & exits in your trading software for more consistent trading and reduced stress.
Diversify Through Hands-Free Trading Systems
Systems are professionally developed algorithmic trading strategies that automatically execute trades in your brokerage account. Diversify your trading across multiple backtested strategies while eliminating emotion & saving time.
Trade More Markets for More Opportunity
Auto-trade multiple strategies at the same time
Diversify opportunity across various markets & instruments
All trades executed within your brokerage account
NinjaTrader is always FREE to use for advanced charting, backtesting & trade simulation.
Download Ninjatrader Now
(opens new tab)